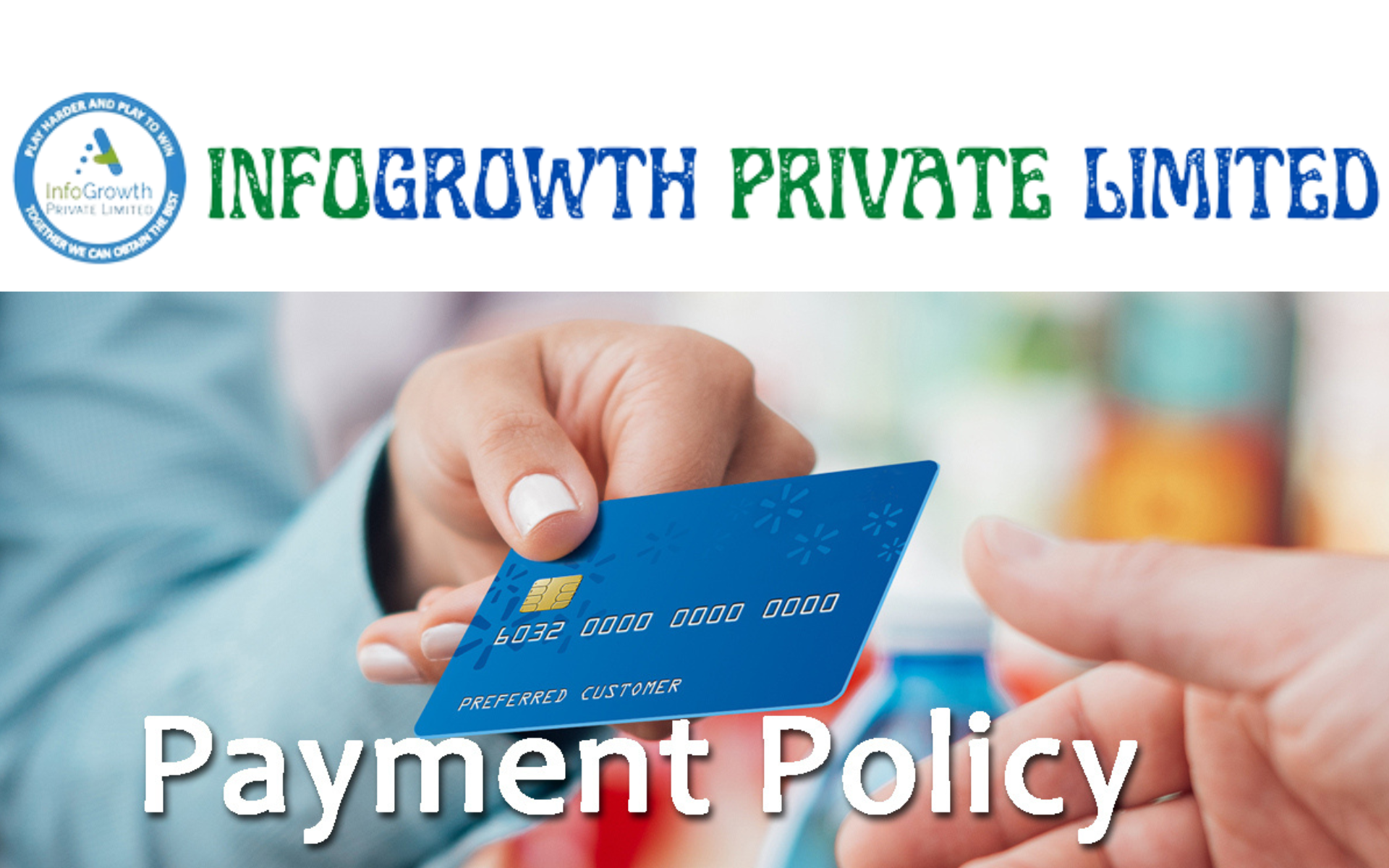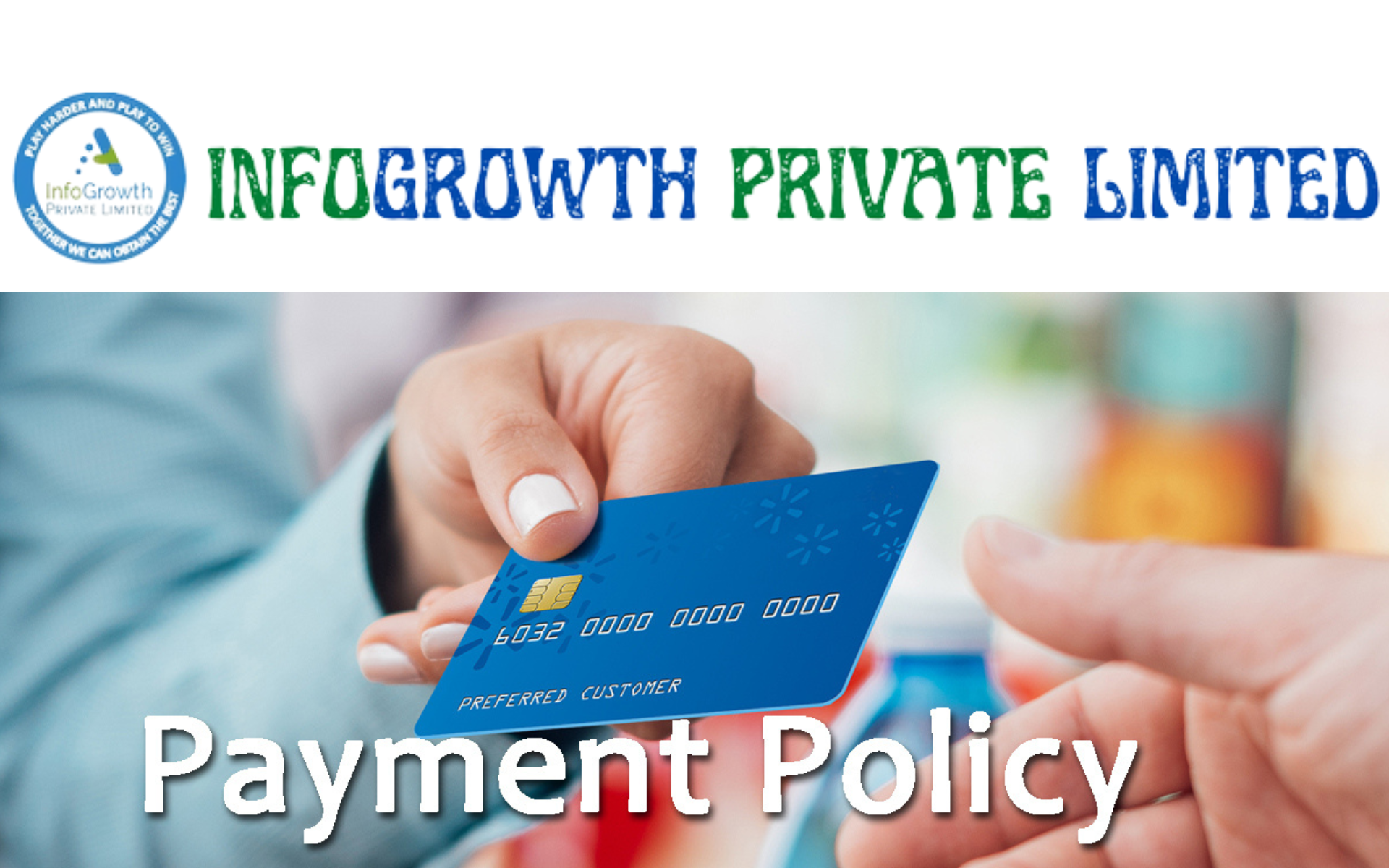 Payments for the services offered by InfoGrowth shall be on a 100% advance basis. Refund if any will be at the sole discretion of InfoGrowth Pvt Ltd. IPL offers no guarantees whatsoever for the accuracy or timeliness of the refunds reaching the Customers card/bank accounts. IPL gives no guarantees of server uptime or applications working properly. All is on a best effort basis and liability is limited to refund of amount only. IPL undertakes no liability for free services. IPL reserves its right to amend / alter or change all or any disclaimers or terms of agreements at any time without any prior notice. All terms / disclaimers whether specifically mentioned or not shall be deemed to be included if any reference is made to them.
Unless otherwise specified and notwithstanding anything contained in any other agreement or arrangement, by whatever name called, the performance obligation of IPL (service provider) is to provide access of its on-line portal to the customer for the duration of the subscription period & reference to any usage, by whatever name called or any other performance obligation, if any, is to provide the upper limit for consumption, which by itself, does not create any additional performance obligation upon IPL
Subscriber/user acknowledges and agrees that InfoGrowth, at its sole discretion and without prejudice to other rights and remedies that it may have under the applicable laws, shall be entitled to set off the amount paid or payable by a subscriber/user against any amount(s) payable by Subscriber/user to IPL under any other agreement or commercial relationship towards other products/services.
InfoGrowth Pvt Ltd. further reserves its right to post the data on the website InfoGrowth or on such other affiliated sites and publications as InfoGrowth Pvt Ltd. may deem fit and proper at no extra cost to the subscriber / user.
The subscription / agreement between IPL and the subscriber / user is not a "non-poach agreement" nor can the same be termed or used as an alternative to "non-poach agreement" in as much as InfoGrowth is a public site and all information posted by IPL goes to the public domain except information / data which is specifically assigned a non-public / private character.
Any agreement for a subscription / usage entered into by IPL does not confer exclusivity of service on any subscriber / user.
InfoGrowth Pvt Ltd will not be party to any legal proceedings between a user (e.g. a subscriber) and a party contracted through the site. In case InfoGrowth Pvt Ltd. is implicated in any legal proceedings, costs will be recovered from the party that names InfoGrowth Pvt Ltd. however will abide with any court order served on it through due process. IPL controls and operates this Platform from its headquarters in Noida and makes no representation that the materials on InfoGrowth are appropriate or available for use in other locations. If you use this Website from other locations, you are responsible for compliance with applicable local laws including but not limited to the export and import regulations of other countries.
In case a person using the world wide web/internet receives a spam or virus which includes a link to InfoGrowth or to any other site maintained, operated or owned by IPL , it should not be held responsible for the same. IPL assumes no responsibility for such mails.
The services provided by the websites maintained, operated or owned by IPL do not extend to acting as an agent (express or implied) on behalf of any subscriber or user.
IPL has no agents and does not operate through any agents save for those specifically mentioned on the home page of the website.
The Terms and conditions mentioned above regulate the usage of InfoGrowth. Any person using InfoGrowth in violation of the stipulations contained in the Terms and Conditions of InfoGrowth shall render himself/herself liable to appropriate action in a court of law both civil and criminal.
Refund and Cancellation Policy
Full refund will be made if you secede to cancel our services within 5 days of making the payment.
If you choose to terminate our services after the initial 5 days then you will be charged an amount equivalent to the working hours put into the project. The balance will be credited to the account from which you made payment within 45 days of cancellation.
Cancellation of any service renewal should be done 10 days prior to the start of next billing cycle.
If cancellations are made after the start of the billing cycle then an amount equivalent to the working hours put into the project during that month will be billable, which the clients will be entitled to pay.
If you signed up for our services, but did not make use of them then you are still entitled to pay us.
Amount of refund will be credited in the account from which the payment was made within 45 days of service cancellation.
Refund Policy (Digital Marketing)
InfoGrowth will not be liable for a refund or guarantee of top search ranking under the following circumstances:
In case of effect on SEO ranking due to changes in ranking algorithm, policies, or functionality of search engines.
Link building, a part of SEO, is carried out based on the information you provide us. In case the URLs given by you are incorrect, we will not be responsible for any subsequent errors and there will not be any refunds or money-back guarantee.
InfoGrowth will not be responsible for SEO results if the client engages with any other third-party SEO services.
The number of times and rank of a website appears on the search list varies and thus an immediate change in the search ranking cannot be guaranteed.
Any adverse effect on ranking due to changes in website content by the client or third party service provider hired by them.
We make no guarantee that our SEO services will show the client's website in the top ten search rank. However, understand that we work in your best interest and put in our best effort to provide genuinely profitable results. Our aim is to make your life simpler and your business more lucrative.
*InfoGrowth reserves the right to change the above refund and cancellation policy at any given point without any prior notice.
BY ACCEPTING THESE TERMS AND CONDITIONS, YOU AGREE TO INDEMNIFY AND OTHERWISE HOLD HARMLESS IPL , ITS DIRECTORS, OFFICERS, EMPLOYERS, AGENTS, SUBSIDIARIES, AFFILIATES AND OTHER PARTNERS FROM ANY DIRECT, INDIRECT, INCIDENTAL, SPECIAL, CONSEQUENTIAL OR EXEMPLARY DAMAGES ARISING OUT OF, RELATING TO, OR RESULTING FROM YOUR USE OF THE SERVICES OBTAINED THROUGH INFOGROWTH INCLUDING BUT NOT LIMITED TO INFORMATION PROVIDED BY YOU OR ANY OTHER MATTER RELATING TO INFOGROWTH. ANY REFERENCE TO DUTIES AND TAXES ETC IN THESE TERMS OF USE SHALL INCLUDE GOODS AND SERVICES TAX (HEREIN REFERRED AS GST) FROM THE DATE GST LAW IS IMPLEMENTED IN INDIA. ANY ADDITIONAL TAX LIABILITY ARISING ON ACCOUNT OF INTRODUCTION OF GST (WHETHER ON ACCOUNT OF INCREASE IN RATE OR ANY CHANGE BROUGHT IN BY THE NEW TAX REGIME) WOULD BE RECOVERED OVER AND ABOVE THE AGREED CONTRACT PRICE / SERVICE FEE.
If any dispute arises between a user/users and IPL arising out of use of InfoGrowth or thereafter, in connection with the validity, interpretation, implementation or alleged breach of any provision of these Terms and Conditions, the dispute shall be referred to a sole arbitrator who shall be an independent and neutral third party identified by the Company. Decision of the arbitrator shall be final and binding on both the parties to the dispute. The place of arbitration shall be New Delhi, India. The Arbitration & Conciliation Act, 1996 as amended, shall govern the arbitration proceedings.
These Terms and Conditions shall be governed by the laws of Republic of India. The exclusive forum for any disputes arising out of or relating to these Terms of Use shall be a court of law located in Hyderabad, India.